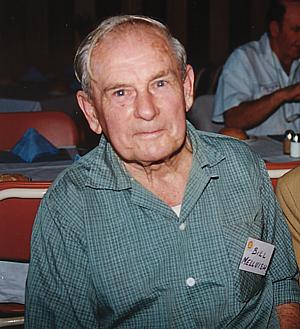 Aussie solo pioneer and test representative, Bill Melluish in 2000. Bill rode the Hunter Valley tracks in the 1930s under the name of Bill Francis so his mother didn't find out he was riding Speedway. He had a great career over a 2 decade period. We lost Bill in 2004.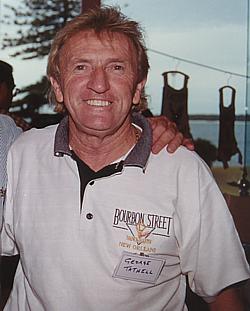 The late George Tatnell in 2000.

George had a long and successful career in 4 wheelers, starting in stock cars, then midgets, modifieds and Sprintcars. George won the Australian Speedcar Championship in 1973, 74 & 77. His son Brooke won the 2005 Australian Sprintcar title.

George passed away after illness in 2007.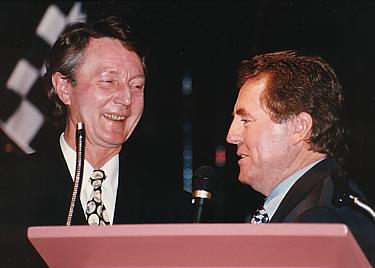 Star midget driver of the 1960s, Johnny Harvey is interviewed by Allan "Olly" Edworthy at the 1997 VSA of NSW Cabaret.

Legendary midget constructor, Ron Ward, left,  has some fun with 1960s star midget driver, Sid Middlemass at a Vintage Speedway picnic day... Parramatta 1996.

Sid will forever hold the 50 lap Speedcar record at the Sydney Royale.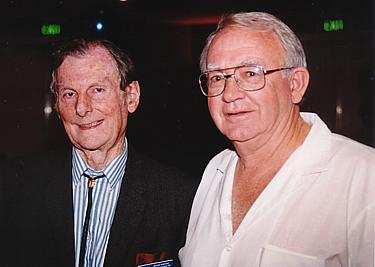 Allan Marshall left, ( real name Allan Russack) midget driver of the 1940s and 1950s with 1950s midget ace Bill Shevill. Allan was the first midget driver I ever saw in action at the Sydney Sports Ground Speedway at a

Boystown Sunday afternoon event and Bill is the only Aussie midget driver to win 14 straight feature races.

We've lost Allan since.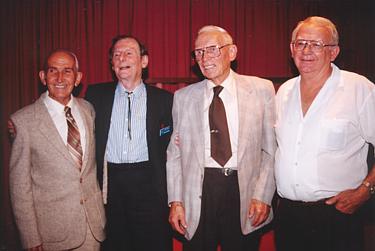 Tommy Bradshaw, Allan Marshall, the famous Frank "Satan " Brewer and Bill Shevill.  Frank was honoured on the night with the VSA "Thanks for the Memories " award....  Bankstown - 1996.  We lost Frank in June 2001.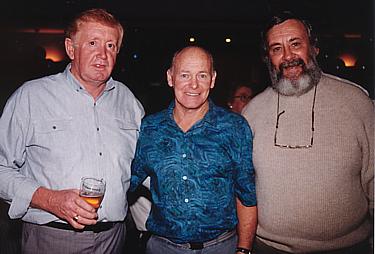 1995 VSA of NSW cabaret.

L to R. Midget aces Kevin Gormly, Peter Bowland and Brian Myers.

Ex South Australian midget driver,

Gordon Benny receives an award in 2001 at the VSA of NSW cabaret.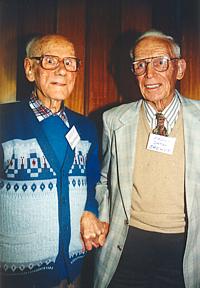 1998 - Eddie Behrmann and Frank Brewer. Eddie was about 86 and Frank 92 in this pic. Eddie rode solos at Maroubra, the Royale etc. and was a big time rider in the 1920s and 30s. He passed away in 1999.

Allan Streader, The Red Baron, and his little TQ in which he was so successful. Allan is still very active in modern and vintage speedway in 2005 now in his late 70s.

Midget constructor and car owner of the 1960s, Billy Wells in 2004.

Bill is still active in vintage speedway driving # 54 the Wells / Lew Marshall Holden in vintage demonstrations.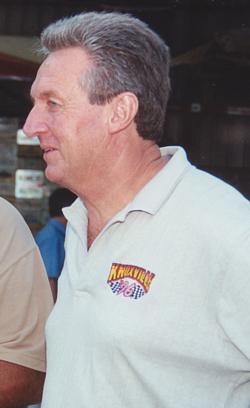 2003 - Bob Tunks, still active in Sprintcar speedway officialdom.

Three ex Royale midget pedallers in 2004 Don Reid, the late Don Newell and George Liebrand at the 2004 VSA of NSW Presentation Night. Don Newell passed away in 2007.

Phil Green, Bob Blacklaw and Peter Nunn on a vist to PCR - 2001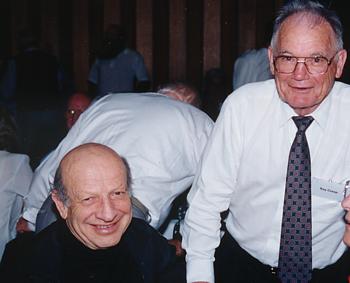 2003 - Ex NSW Junior Solo Champion Bobby Meyer with Ray Cresp a 1961 World Solo Finalist .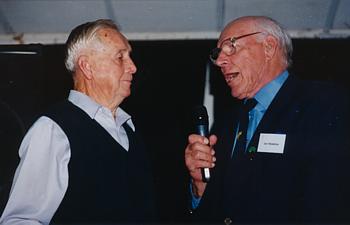 2003 - Ex Aussie Solo Champion, Keith Ryan is interviewed by his old Edinburgh Speedway "boss", Ian Hoskins, son of John. S. Hoskins and promoter in his own right.

2003 - Allan Quinn, ex International solo rider. Allan rode at Harringay in the 1950s.

2003 - Sydney solo rider Neville Haines with ex Coventry and International, Les Hewitt. We lost Les on the 12th. July 2005.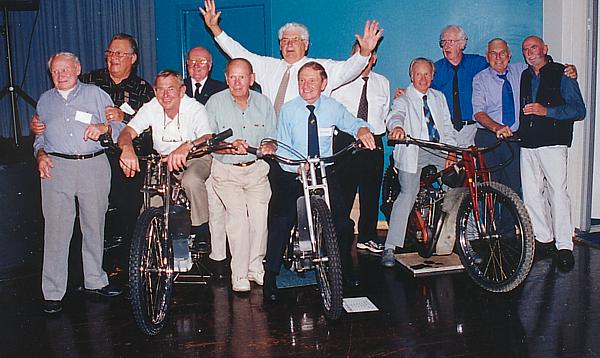 Here's a big one !         The 2003 Vets Dinner at Sans Souci, NSW.

L to R; Hugh Geddes, Olle Nygren, Ronnie Moore, Jack Geran, Les Hewitt, Allan Quinn, Bob Andrews, Ray Cresp (hidden ),Bluey Scott, Jim Courtney, Chum Taylor and Trevor Harding.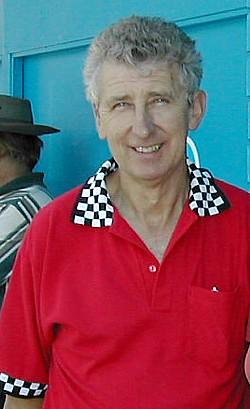 Qld. Ekka 2002 - Howard Revell.

Murray Bridge 2003 - Kym Bonython and Bill Wells.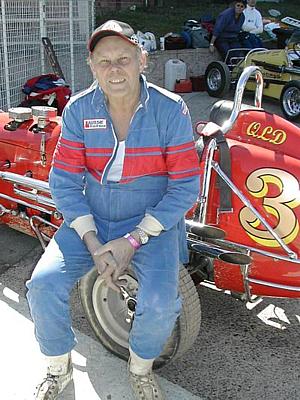 The Ekka 2003 - 5 times Qld midget champ , Barrie Watt & # Q3.

Qld. 2003 - Jack Porritt.

I'm getting into the act here with my mate, ex Sydney sidecarist, Mick Pearson

( on right). Qld. - 2003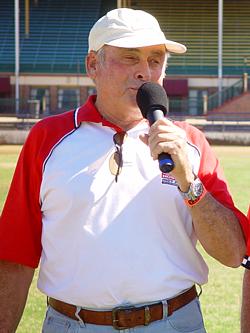 Ekka 2003 -- Blair Shepherd.

John Stanley pic.

Ekka 2004 - Don Meacham of the USA.

John Stanley pic.