A.G "Bluey" Wilkinson, 1938 World Solo Champion and an Australian Speedway ICON.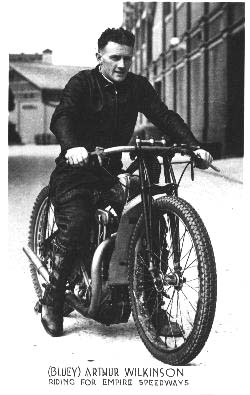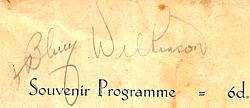 Bluey's autograph from a 1939 Sydney programme.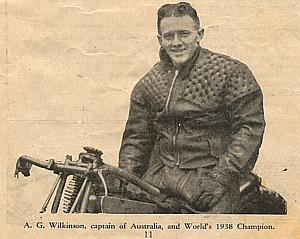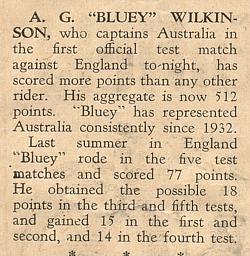 Excerpt from 1939 Sydney Sportsground Speedway programme. It was the first official Test Match of the season against England and was the 62nd test match between the two countries. England had won 32 and Australia 29.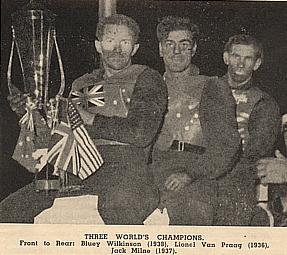 Three World Solo Champs. Bluey (1938), Van Praag ( the first in 1936 ) and Jack Milne ( 1937)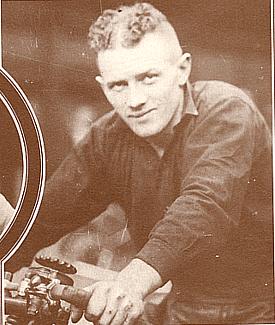 BLUEY, affectionately known as the "Bathurst Burr"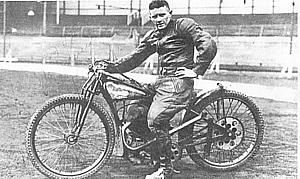 Bluey Wilkinson - A Bathurst Legend.

Bathurst's Racing legend Bluey Wilkinson will never be accorded his true greatness from the Speedway record books.

The annals of Speedway show he won the last of the pre war World Finals.... but that is only one chapter in the incredible story of Bluey Wilkinson.

For Bluey - christened Arthur George but known by his Australian nickname because of his red hair - was still under the age of 30 when he was killed in a motorcycle road accident in Sydney on July 27 1940.

He was undefeated in the first ever World Solo Final in 1936 but didn't claim the prize because of an antiquated system under which every finalist carried forward bonus points from the qualifying rounds. Today Wilkinson remains unique in the history of the World Speedway Championship. In 1936 he won all his heats for a maximum score in the final but was beaten by the bonus points system.

He was favourite for the following year, but was ruled out with a broken wrist. Finally, after two frustrating years in chase of the title, Wilkinson won the 1938 World Speedway Championship at London's Wembley Stadium in convincing style.

Wilkinson showed true grit at Wembley that night. Despite a nagging shoulder injury- legacy of a crash at New Cross on the eve of the World Championship- Wilkinson still got the job done to become one of the title's most courageous winners. Wilkinson's win in 1938 also was the last World Final for over a decade.

No one can say just how many titles Bluey might have won had fate not stepped in and decided otherwise.. That Bluey was a likeable man is undeniable. When he first decided to try his luck in Britain the townsfolk of his native Bathurst in NSW united and presented him with a wallet- neatly filled with thirty pounds, a not inconsiderable sum of money in the late 'twenties.

Wilkinson travelled to England in 1929. At first it was hard going for the then 18 year old, but he got his chance and ultimately became a star with the famous West Ham British League team.

It was not long before Wilkinson was called up for Test Match duty and it was in this sphere of red hot competition where Bluey excelled. He scored 181 points in 23 pre-war matches for Australia against England.

Bluey Wilkinson was the first ever Test rider to score maximum points in every Test match during an England vs Australia series. He achieved this unique honour in five Tests ( all in Sydney) during the 1937-38 series for a magnificent unbeaten record.

Les Wotton once said of Bluey," your race against Bluey was never over until you crossed the line first".

Popular though he was, Wilkinson was something of a loner. He was always last to arrive at a track and more often than not he was the first rider to leave at the end of a meeting.

He was keen on Shakespeare and took in as many of these plays as his overloaded  racing diary would allow. Psychology, too, was one of his more unusual hobbies.

Wilkinson was also the first Speedway rider to appear in Madame Tussaud's Waxworks Museum shortly after his World Final victory in London. His end, both as a rider and a man, came prematurely. He retired in 1939 to take over as Promoter at Sheffield and, a year later, he was returning home from a night at the theatre in Sydney, with his wife on the pillion of his roadbike, when a truck driver, swerving to avoid a car coming out of a side street, ploughed into the little champion.  It proved to be Bluey's last ride....

( Most of this information supplied by Peter Oakes - Front Page News Ltd - England.)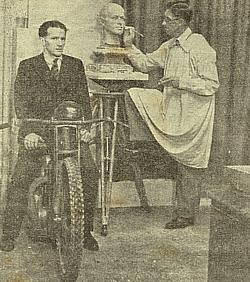 Bluey Wilkinson sits for the Sculptor at Madame Tussaud's Wax Works in London soon after he had won the World Speedway Championship at Wembley in 1938.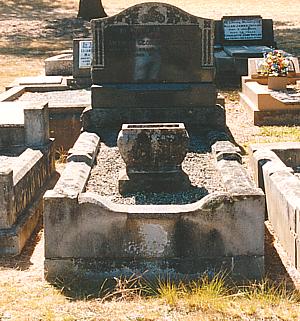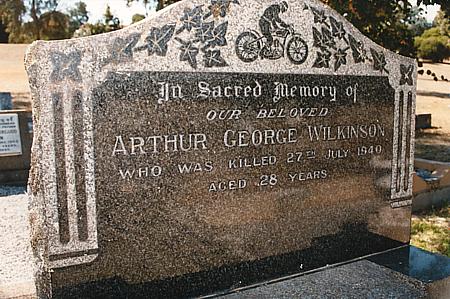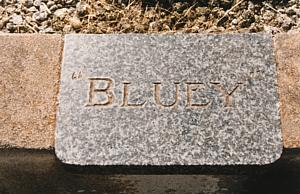 The grave of Bluey Wilkinson at the Bathurst, NSW, Cemetery.

The magnificent headstone of Bluey's grave at Bathurst.

The footstone of Bluey's grave.

Born in Millthorpe, NSW, Australia an Historic village just west of Bathurst NSW.  In 1916 at the age of four, Bluey and his family moved to a small weatherboard ( timber) house in Violet St. South Bathurst.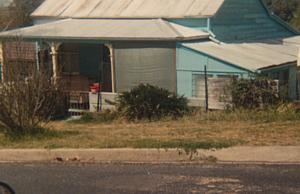 Bluey's first home in Bathurst at the age of 4.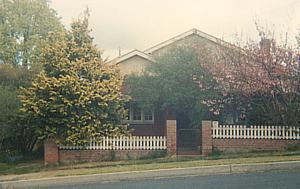 The house in Bathurst that Bluey bought for his family when he started racing.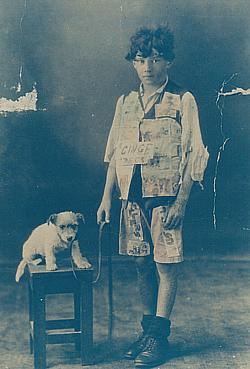 A boy and his dog.                                                                                     Bluey dressed as " Ginger" Meggs.

( an Australian comic strip character)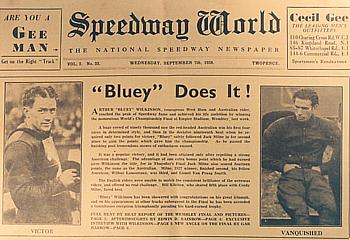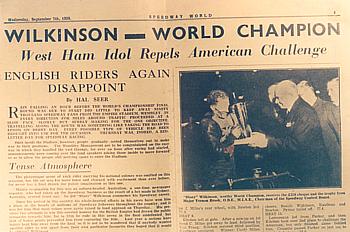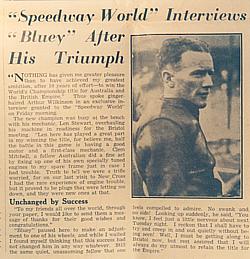 Some of Bluey's press clippings of the day.

Thank you to Christine Karlsen of Bathurst for allowing me to use some of her researched material.

Bluey, with his red hair and freckled face he was a natural to play Ginger Meggs.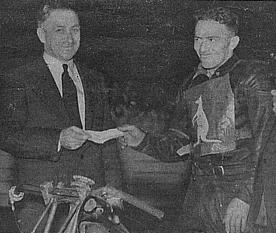 Bluey receiving his cheque for 25 guineas ( approx $52.50) for being the highest pointscorer in an Australia vs England test series. Mr N.Burt of Burt's Milk Bars is presenting the cheque.

   ( A Guinea was One Pound One Shilling or equiv. $2.10)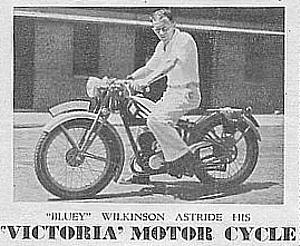 Bluey advertising a road bike on February 25th 1939.  17 months later he was gone, a fatal accident on a road bike. How ironic, a man that rode all over the world on speedway bikes, flat out side by side with 3 others at great speeds on dirt tracks, to lose his life at the tender age of 28, in retirement, coming home from a night out on a road bike.    

BLUEYS  TITLE ACHIEVEMENTS

1935 (3 lap)

1938 (3 & 4 lap)

Australian Solo Championship.

1935.... NSW Solo Championship

           Australian Solo Championship

1936.... 3rd Place World Solo Championship.

1938.... 1st Place World Solo Championship

           NSW Solo Championship

           Australian Solo Championship

1939.... NSW Solo Championship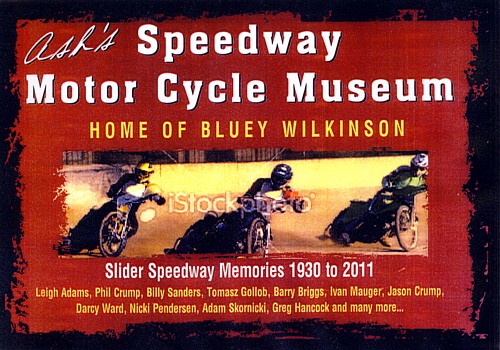 Visit Ash's Museum at Bathurst.

2/10 Bradwardine Rd. Bathurst NSW.

Open - 10am to 4 pm Weekends and Public Holidays (only)

Ph. 0414 240 164