Arthur Glasson, an official at Sydney Speedway meetings for many years and an active Sydney club motorcyclist has, via his son, shared this small collection of quite rare photos with us on "Vintagespeedway ". Arthur lost his life in a motorcycle accident in the 1950s. Thank you to the Glasson family.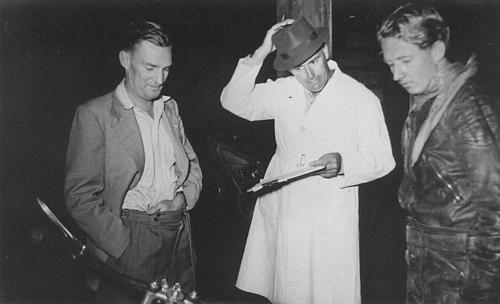 Pioneer solo rider Wally Little, left, Arthur Glasson centre and Graham Warren on the right inspecting one of the bikes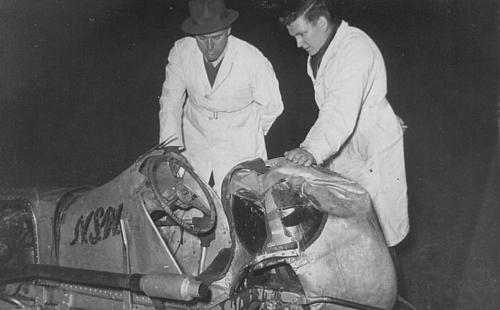 Arthur Glasson on the left, with a fellow official, inspecting the wrecked Eddie Dark air cooled midget # 1 driven by Johnny Peers.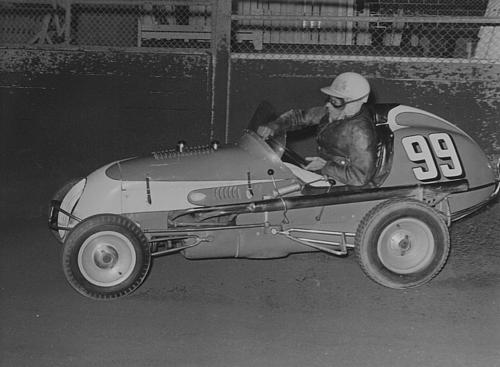 A magnificent photo of Frank "Satan" Brewer in his Eddie Meyer Ford V860 midget # 99 at the Sydney Showground Speedway. Frank, a New Zealander by birth, raced here as an 'American'. He originally brought this car out to Australia in 1949, it was raced in Australia with great success by him and went on to be driven by many great Australian drivers. It was last raced as # 2 the BERCO Repco Holden and is now restored ( as the # 2 BERCO ) and runs in vintage events by the Arthurson family from the A.C.T. with the VSA of NSW.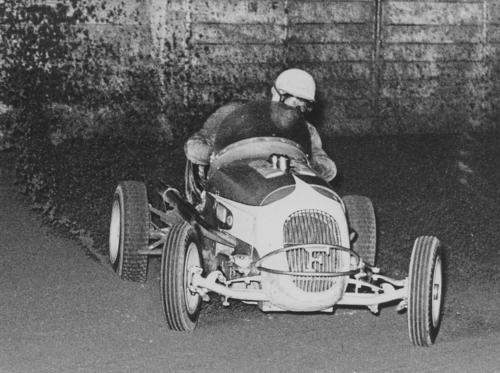 A great head on shot of Frank and 99 at the pit gates at the Royale.

Touring American midget ace, Perry Grimm in the beautiful Ford V860 midget # 65 he brought out to run in Australia in 1947. Grimm only drove this car here, it being driven in the States by Roger Ward and other top drivers. Grimm drove for Vic Edelbrock in the U.S.A..

A rare photo as it is personally autographed by Grimm. An Allan Gerard photo.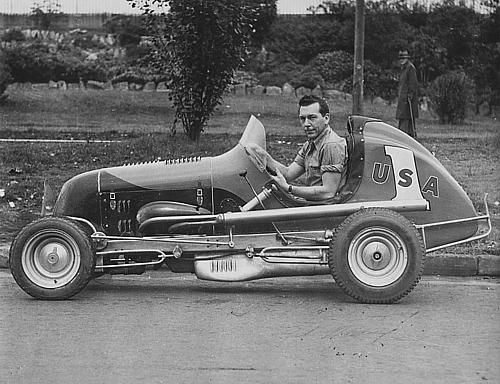 Another American midget ace who toured here a couple of times, Cal Niday in the black and red Ford V860 midget USA 1. He and Grimm touring together at one stage. On his second tour Niday raced the beautiful little yellow  Offenhauser powered midget # 3.  This Allan Gerard photo is autographed by Niday but the ink has faded quite a bit over the years.