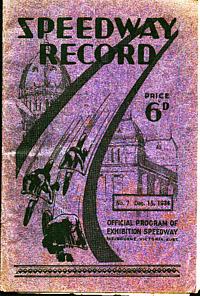 The Melbourne Exhibition Speedway.

The Exhibition Speedway in Melbourne, Victoria was set in the grounds of the Exhibition Buildings ( still standing today ) was ( 3ft from the inner edge) 413 yards in circumference. (  377.65 mtrs. ). The Directors in 1934 were, M.J.Herde Esq. and Gene Cowley Esq.

A 4 lap time was around 1 min 20 secs.

Riders on the programme of  Dec. 15th. 1934 were;

Arthur Atkinson ( Eng.), Percy Day, Tom Johnson, Harry Bethel, Mick Barker, Bill Clibert ( Eng.), Reg Hay, Lionel Davey, Arthur Haendel, Leo Byrne, "Wild" Bill Rogers ( no doubt the "Master" of this circuit ),Col Sampson, Archie Clarke, Jim Thomas, Jeff Pymar (Eng.) Geo. Hannaford, Les Darby, Bill Patterson, Stan Littlewood, Bert Spencer, Dave Hynes, Jim Fitzpatrick, Don Hemmingway, Bob Le Hunt, Jack Chapman, Maurie Bradshaw, Harry Cracknell, Les McIntyre.    28 in all, how's that for a field of riders?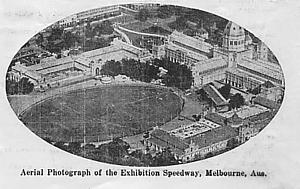 This aerial photo shows the location of the track behind the Exhibition Buildings in Melbourne.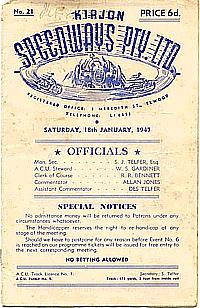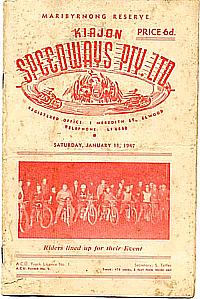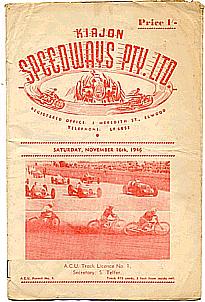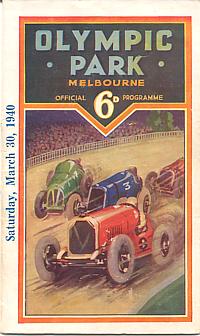 An original Olympic Park programme.

              March 30th 1940.

KIRJON Speedways Pty Ltd started the Speedway in Maribyrnong ( suburb of Melbourne ) before the War    ( WWII ) years but eventually ran out of money.  Fred Tracey took over the running after the war and ran Tracey's Speedway Maribyrnong until it closed in 1964. )           ( Prog. covers courtesy of Garry Baker)

In 1960 the track was 440 yards  ( 402.33 mtrs ) measured 3 ft from the inner edge although in a 1947 programme the track measurement was stated as 478 yards.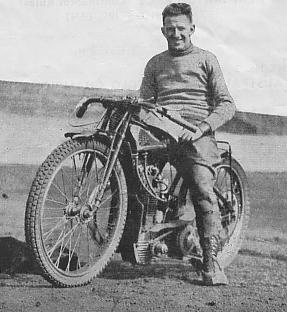 Fred Tracey, 1947 Victorian Solo Champion and Promoter of Tracey's Speedway, as he appeared in England in 1938.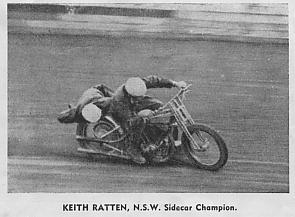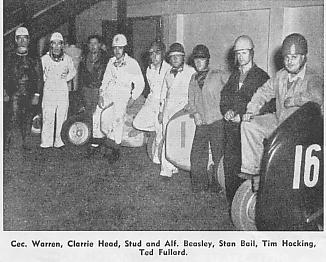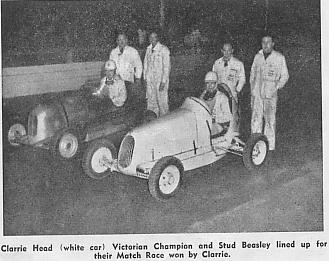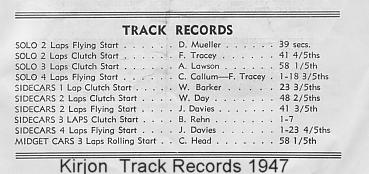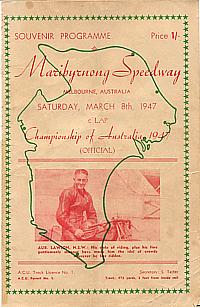 The programme for the 1947 Official Australian 2 lap Solo Championship of Australia at Kirjon Speedway.

Saturday 8th March 1947.

Riders entered were:

Lionel van Praag, "Wild" Bill Rogers, Percy day, Max Pearce, Frank Woodroofe, Ron Hyde, Aub Lawson, Fred Tracey, Geoff Blythe, Laurie Jamieson and Leo Byrne. They all rode J.A.Ps except for Hyde who rode a Rudge.

On the sidecar programme Bruce Rehn raced Keith Ratten in Match Races , both on Brough Superiors and some of the big names in midgets were Eddie Thomas, Clarrie head, Alf Beasley and Bill Dutton.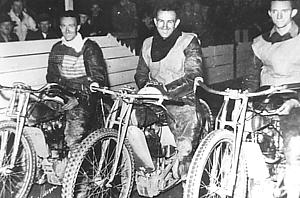 L to R. American "Pee Wee" Cullum, Fred Tracey and Jack Arnfield.

This 1947 2 Lap Australian Solo Championship was won by "Wild" Bill Rogers from Lionel Van Praag and Aub Lawson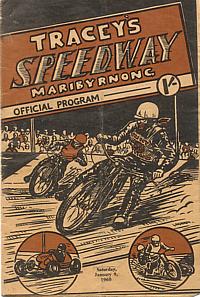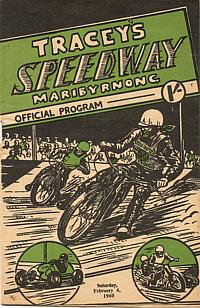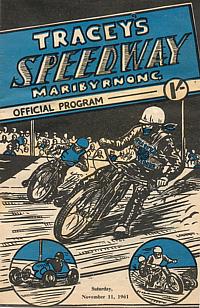 Programme dated Saturday

Jan. 9th 1960. This was an International Solo Meeting and on the card were:

Ken MacKinlay, Gordon McGregor, Geral Jackson and Mike Broadbank along with Aussie, Ron "Junior" Bainbridge.

Programme dated Saturday February 6th 1960.

The meeting was for the 30 lap Alf Beasley Memorial  Trophy race and it was won by Dean Hogarth driving car No. 20 from Frank Nankerville in No. 18 and N. Spitty in car No. 88.  As an 18 year old I had hitch-hiked down from Sydney for this meeting.

Programme dated Saturday november 11th 1961.

A Four Star programme ( Solos, Sidecars, Speedcars and Hot Rods ) with all the top Victorian competitors of the day.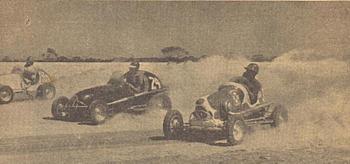 BAXTER Speedway opened on Sunday, December 20th 1953.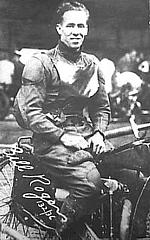 " Wild " Bill Rogers.

An absolute ace at the Exhibition and Olympic Park tracks.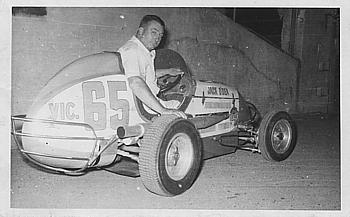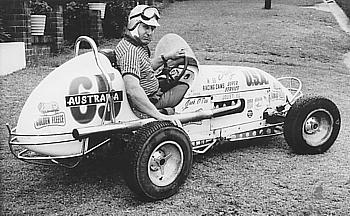 "Big" Jack O'Dea a popular and successful Victorian midget driver. On the left in the # 65 Studebaker and on the right the # 65 Offenhauser, ex Tony Saylor.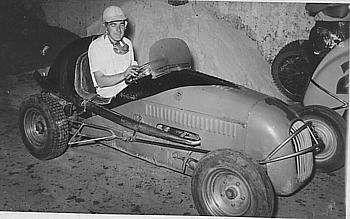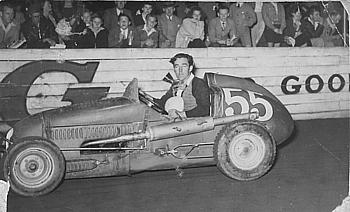 From Victoria's "first family" of Speedway, Stud Beasley in two of his cars over the years.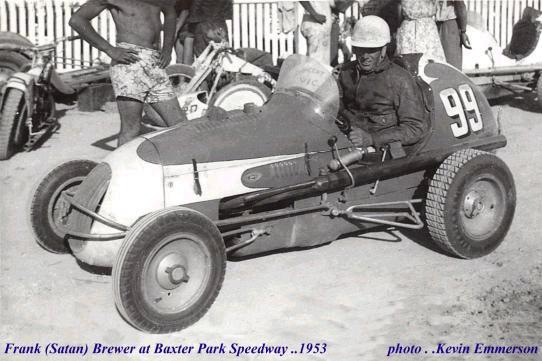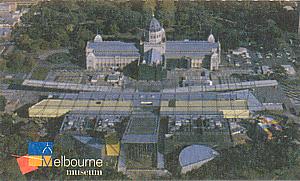 The Exhibition Buildings in 2003. The new Melbourne Museum is now where the Speedway once stood.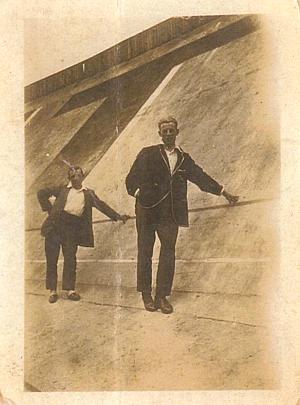 Right.

Two riders look at the high banking of the Melbourne Motordrome circuit in the early 1920s.

This track was the forerunner to the Olympic Park track.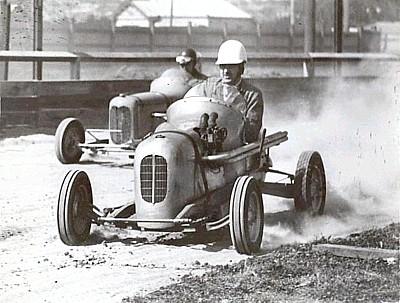 Midgets try out the Kirjon track 2 weeks before the reopening in 1946.

Stud Besaley on the inside.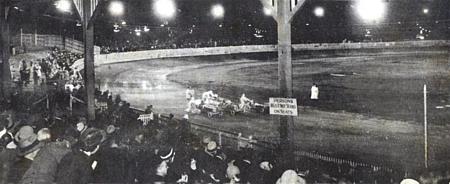 An early photo of midgets at Olympic Park, Melbourne.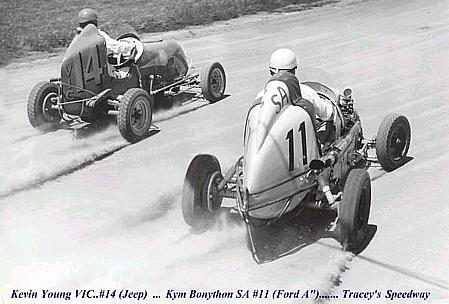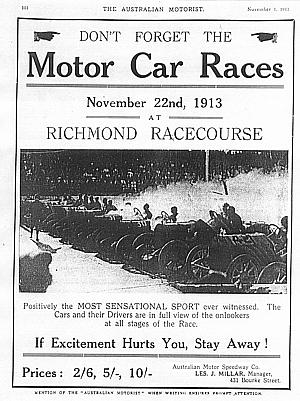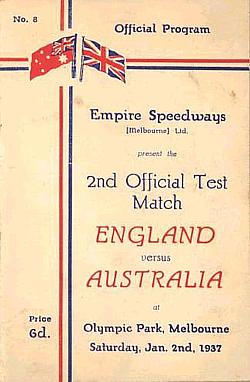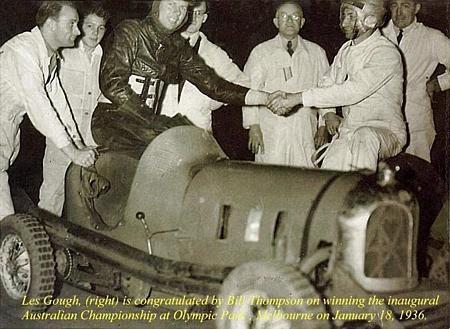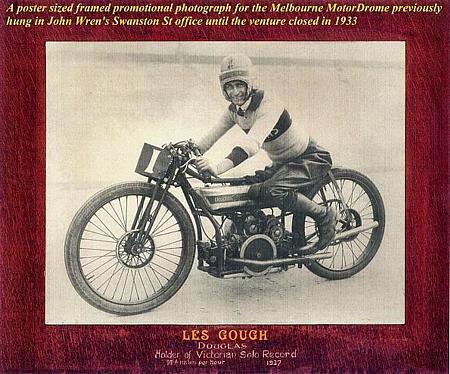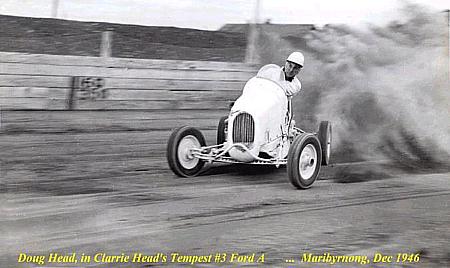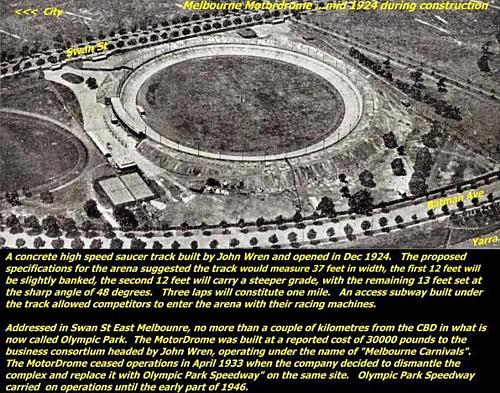 Thanks to Garry Baker for these great pics and research.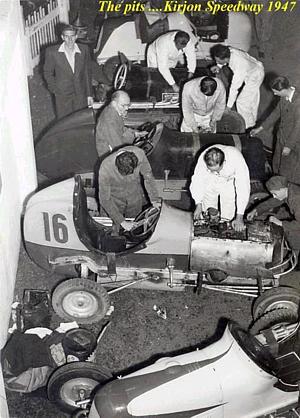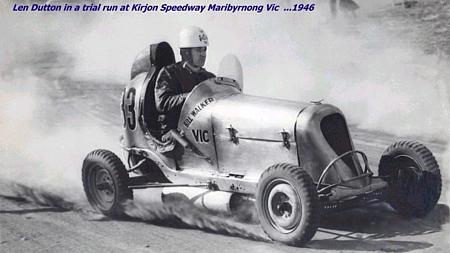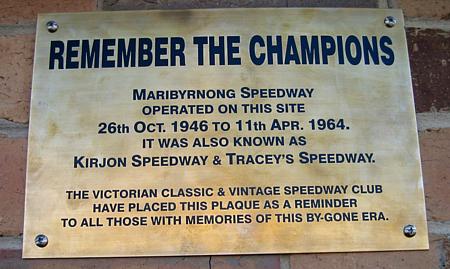 On the 4th April 2004 the Victorian Classic and Vintage Speedway Club members placed this plaque on a wall of the old Tracey's grandstand in the memory of Tracey's Speedway,

the fans and all who rode or drove there.

Photo........Garry Baker.


Click on this heading to view some photos of midgets at Brenock Park Speedway, Victoria, in the late 1940s


Some photos of when Laurie and his brother Bob ran at Tracey's in the 1960s.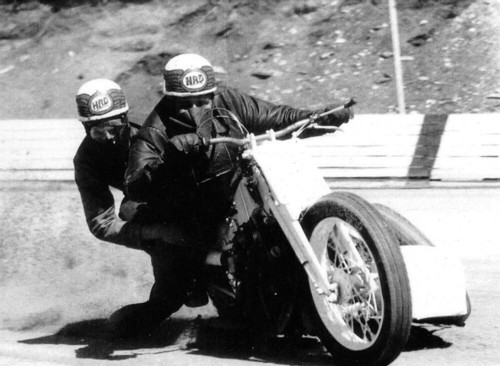 Victorian Sidecar ace - 'Spud' Redshaw with passenger Ted Gibbard at Tracey's in 1956...Thanks to Alan Redshaw for this pic of his Dad.